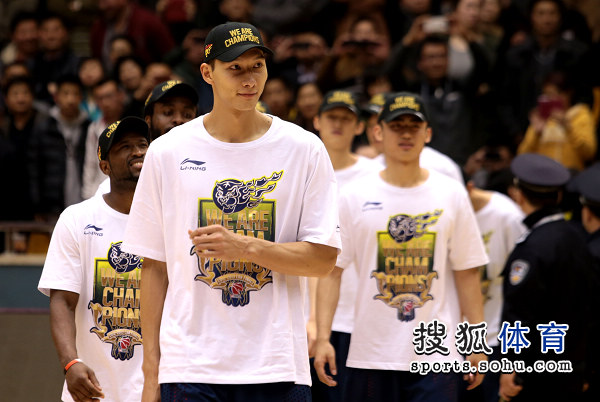 Yi talked to Sohu, he may think about be back to NBA

  As official website for CBA, Sohu Sports caught up on Yi Jianlian after his team beat Shandong 94:74 at Game 4 of CBA finals and won the eighth title with a sweep-out 4:0. He also won the finals MVP, again.
  Sohu Sports:How do you feel like to be the finals MVP?
  Yi: I was the finals MVP before I left for NBA in 2007. Zhu Fangyu, Wang Shiping and I, all were MVPs. The only goal for coming back is to play harder on the court and make impact on the game and then be champion again.
  sohu Sports: You swept all the individual honors this year and how do you think about yourself through out the whole season?
  Yi:I feel very comfortable with the team. Guangdong is a team with coherence. We have been ups and downs including changing coach and foreign players. However, the heart of being a champion has never been shaken. We are more than happy to achieve our goal.
  Sohu Sports: Guangdong was beaten twice by Beijing and the latter did not make the finals. Do you feel a little bit of upset not beating them in the finals?
  Yi: That is why game is played. I hope Beijing a better year next season. They played well, but Shandong was even better in the semis.
  Sohu Sports:Look back, is it still a smart decision on coming back to CBA?
  Yi:It was totally a different experience playing in the NBA than in the CBA. NBA is a league with highest level and CBA is rising. Several all-star players joined in CBA because CBA has its own charm. NBA is not the only choice for basketball professionals. CBA is good enough to attract more stars to China and I believe T-mac, Gilbert Arenas will be back next year.
  Sohu Sprots:How much does the experience with NBA help you?
  Yi:It is a valuable experience for me.The more you experience, the more you get. This is true to a basketball player or any career. It will help you with grow-up and play basketball as a career. Being on this stage, I saw young guys played well every night, they found their way to impact the game and improve themselves a lot, especially for ones from Shandong, They were great. You should work hard, keep going to help yourself and eventually the team.
  Sohu Sports:Zaid Abbass hoped you get back to NBA ASAP, so he could avoid you in CBA.
  Yi:(Laugh)I'll think about that.
  Sohu Sports:Are you still following NBA games?
  Yi:I'll have more time and I'll follow.
  Sohu sports:Is it a primary golf right now for you to go back to NBA?
  Yi:I have not thought that far. I'm going to take rest for a while and think it over.